Support your VFCC Ministry of choice today!
---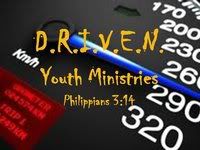 Do you know who you are in Christ? Tired of making the same mistakes? Wondering why you\'re put on this earth? We\'re Talking to YOU!!! Are you D.R.I.V.E.N. to make a difference? Defining Reality, Implanting Visions, Empowering Nations (D.R.I.V.E.N.) Youth Ministries is on the move. We exist to promote a proper balance between our spiritual and natural lives. It is our goal to raise up young adults who will impact their communities as well as the world. Make your relationship with Christ a priority TODAY!!

Foundational Scripture:
\nI press towards the mark for the prize of the high calling of God in Christ Jesus
- Philippians 3:14

Mission: to teach God's word in a simplistic, practical manner that will prepare young people to be fruitful Kingdom citizens. To motivate them to outlive the world's expectations, love and respect themselves, one another and those in authority over them, through effective relationship building

How D.R.I.V.E.N. Ministries is impacting the Community:


Free Tutoring Sessions
Bible Based Group Discussions
Real Talk Live
Fellowships
Open Mic Nights
Musician Sheds
Drama/Creative Arts
Etiquette Training
Sports/Fitness Training
Outreach/Evangelism
Charity Events
D.R.I.V.E.N. Meals
Fundraisers
PLUS MUCH MORE!!!


\nINTERESTED? EMAIL US AT: drivenyouth.vfcc@yahoo.com
---
I. Vision Statement
\nTo win souls (Prov. 11:30) by evangelizing the gospel of Jesus Christ, according to St. Matthews 28: 18-20, through the power of the Holy Ghost (Acts 1:8).

II. Mission
\nTo reach every social category of people; compelling them to get saved, through various creative ministry efforts. To teach and train up new committed believers who shall be able to teach others also.

III. Activities

\nA. Evangelistic Opportunities
1. Church Services
2. One on one (personal)
3. Target Groups
4. Streets
5. Work Place
6. Special Events (Plays, Concerts, Puppet Shows, etc.)


B. Evangelistic Follow-Up
1. Phone Calls
2. Letters
3. Visits


C. Evangelistic Training
1. Classroom
2. Hands on, with experienced team members
---
Kingdom Builders



Foundational Scriptures:
\nThey shall still bring forth fruit in old age; they shall be fat and flourishing;\nTo shew that the LORD is upright: he is my rock, and there is no unrighteousness in him.
Psalm 92:14-15

…"My son, forget not my law, but let thine heart keep my commandments; for length of days, and long life, and peace shall they add to thee"…
Proverbs 3: 1-2

I. Vision\nTo spread the Word of God to seniors, through Evangelism; using various Christ centered activities to enhance their lives in God.

\nII. Mission
\nTo establish a network to reach out to Seniors on all social levels, encouraging Salvation and holistic fellowships that replenishes hope, health, and extends life.

III. Activities

A. Evangelistic Visitations

Nursing Homes
Hospitals
Senior Residence Housing
Private Homes


B. Evangelistic Outreaches

Door to door
Streets
Special Services
Prayer Breakfast/Luncheons


C. Bodily Exercises

Prayer Walks
Senior Exercise Groups
Walk-A-Thons


D. Follow-Up

Phone calls to Senior members and relatives.
Letters to students attending college.
Holiday remembrances; gifts, cards, food, clothes, etc.


E. Fellowship Outreaches

Various trips
Bowling fellowships


F. Educational Workshops

Health
Nutrition
Safety
---
Foundational Scripture:
"…Thou therefore, my son, be strong in the grace that is in Christ Jesus. And the things that thou hast heard of me among many witnesses, the same commit thou to faithful men, who shall be able to teach others also. Thou therefore endure hardness, as a good soldier of Jesus Christ. No man that warreth entangleth himself with the affairs of this life, that he may please him who hath chosen him to be a soldier…
II Tim. 2:1-4, KJV

Vision Statement
Men of Victory are a fellowship support group, aimed to enhance and restore God's men to their God given purpose.

Mission
\nThrough God's grace, we will help our men understand their true identity and direction for themselves, their marriages, and their families. We will seek to become Kingdom minded, sober, temperate, sound in faith, demonstrating a pattern of good works (Titus 2:1-2; 6-8) that will glorify God and truly build one another, socially and financially. We will be accountable to each other and seek to reproduce ourselves, through evangelizing God's word and power.

Activities
Bible Studies
Sports Engagement Fellowships (i.e., golf, basketball, football, etc.)
Fishing Trips
Book Club
Fellowship with other male groups
Prison visitations
Mentoring
Financial/Entrepreneurial Seminars
Leadership and other responsibilities around the church
---
Power & Purpose Media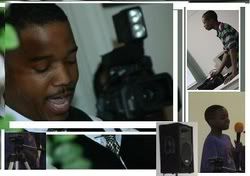 Foundational Scripture
\nWhereof I am made a minister, according to the dispensation of God which is given to me for you, to fulfill the word of God;
[Even] the which hath been hid from ages and from generations, but now is made manifest to his saints: Colossians 1:25-26

Mission: The VFCC Power and Purpose Media Ministry mission is to use multi-media platforms to bring the word of Jesus Christ to every social category of people. We currently provide Audio-Visual support for services including but not limited to installation and management of mixer, microphones, speakers, and applicable audio equipment and software. We create and manage print materials for the church and support the church website. We also provide cds upon the conclusion of all services as an effective way to inspire daily fellowship with God and to reach out to less active members, new members, shut-ins, or the general public. The proceeds of cd sales sustain all VFCC Media Ministry productions.

Vision: Creating scripturally-based imagery and demonstrating the practical application of God's word, we utilize all forms of visual art and sound to inspire people to tap into their God-given potential through faith. Members of the VFCC Media Ministry trust the Lord with their gifts using multimedia as a source of unity and are strongly encouraged to proactively seek opportunities to enhance and expand the ministry.


We plan to develop this ministry in three phases in conjunction with VFCC's vision:
A. In-reach

Find a nucleus of people to start the ministry and implement officers as needed
Train a team on all audio equipment and setup for services and special events
fellowship through conferencing and email
Fulfill all creative needs including but not limited to church stationary, cd/dvd duplication, bulletins, and website. CDs available upon request at the following Sunday service or Tuesday night Bible Study


B. Outreach

CDs made available following all services and events; mass duplication capabilities
Establish and promote outreach missions online and print
Fine Arts including original painting, illustrations, sculpture, and crafts can will be accepted upon pastoral review
Filming of youth ministries and special events for web streaming and downloads
Establish radio broadcast and podcasts
Train technicians to manage lighting and project lyrics of praise & worships songs and multi-format videos under the guidance of the worship leader
Develop newspaper and magazine advertisements, fliers, postcards, and tracts
Support Theatrical productions
---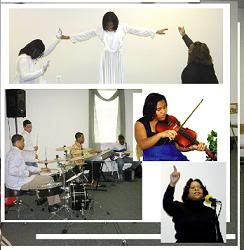 Foundational Scripture
..."Make a joyful noise unto God, all ye lands; sing forth the honor of his name; make his praise glorious"…
Psalm 33: 1-3

Vision Statement: To glorify God and lead his people into worship with him.

Mission: To establish praise and worship within our local congregation; to teach and train up new worshippers for the team, and to extend our ministry to the Body of Christ, at large.

---
Mission: to improve the overall life of the women of God through practical application of God's Word. Moving from brokenness to completeness and from defeat to victory in every aspect of life by learning to balance their roles as wife, mother, sister, and friend in the home, workplace, and ministry, women may fulfill their God-given destiny.

Phase one (In-reach)
Bi-monthly meeting to build relationships
Workshops
Seminars
Teach proper etiquette and protocol


Phase two (Out-reach)
Job Fairs, Financial Awareness, & Networking Events
Community Service: Big Sisters/Clothing Ministry (provide women entering the workforce with proper attire)
Career Skills Training Program: Typing, Computers
Holiday Food Baskets: Distribute to families in need (Thanksgiving and Christmas), Emergency Fund
Health & Fitness Fair
Combined Men\'s Fellowship

Phase three (Worldwide Out-reach)

Establish worldwide women\'s conference that will minister to the spirit, soul, and body
Victorious Faith Christian Center
20 East Taunton Road ~ Suites 303-304 ~ Berlin, NJ 08009
(856) 768-3305
www.vfccnj.org
© 2014 All Rights Reserved